Profile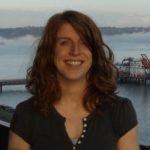 Eimear Tuohy
Curriculum Vitae
Education:

St. Mary's Secondary School Ballina, NUIG Galway & University College Cork

Qualifications:

A degree in Earth and Ocean Science and a Masters in GIS and Remote Sensing

Work History:

I have worked in environmental engineering companies, planning consultants, universities, ski resorts & hotels

Current Job:

Satellite Earth Observation & GIS Researcher

Employer:

I work for the Centre for Marine & Renewable Energy, which is part of University College Cork.
About Me: Satellite data researcher, soccer player, longboard skater, bad ukulele player

My Work: I work as a satellite data and Geographical Information Systems (GIS) researcher, with a focus on marine and coastal issues.

My Typical Day: My days are spent analysing marine and land spatial data, creating maps, designing communications material (e.g. websites, posters, brochures) and organising events such as workshops.

What I'd do with the money: I would use the prize money to travel around to schools and demonstrate all the wonderful ways satellites help us understand the environment.
My Interview

How would you describe yourself in 3 words?

Sporty, nerdy, inquisitive

What's the best thing you've done in your career?

I love getting to travel the world and give presentations on how satellites help us understand the marine environment and climate change.

What or who inspired you to follow your career?

I always loved science in school. I wanted to learn about everything that made the world what it is today and then to how to make it better!

What was your favourite subject at school?

Maths

What did you want to be after you left school?

Environmental Scientist

Were you ever in trouble at school?

Yes, a few times! :)

If you weren't doing this job, what would you choose instead?

A geologist

Who is your favourite singer or band?

The Pixies

What's your favourite food?

Banoffee pie

What is the most fun thing you've done?

Flying a plane through holes in the clouds.

If you had 3 wishes for yourself what would they be? - be honest!

To be able to travel through time and space, to be able to sing like Stevie Nicks & to have Wolverine like abilities.

Tell us a joke.

How many Borg does it take to change a light-bulb? ......................All of them!
---
---
---