Profile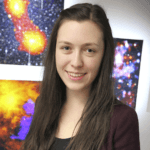 Lána Salmon
Curriculum Vitae
Education:

St. Wolstans Community School, Celbridge (2008-2013) BSc Physics with Astronomy and Space Science, University College Dublin, (2013-2017) PhD student University College Dublin (2017-present)

Qualifications:

BSc Physics with Astronomy and Space Science, UCD

Work History:

UCD Space Science Group

Current Job:

PhD student

Employer:

I am very lucky to be funded by the Irish Research Council to do my research.

EIRSAT-1 is carried out with the support of the Fly Your Satellite! Program.
Favourite thing to do in engineering: Solving problems to do with space!

About Me

I'm a PhD student helping to build Ireland's first satellite, EIRSAT-1, in University College Dublin.

Read more

I live in Celbridge with my family where I grew up. I love baking and trying out new recipes. I think baking requires great science and engineering skills! I am a gaeilgeoir and I love translating things about space into Irish.

My favourite sci-fi movie is The Martian because it's very realistic. But I also love Star Trek! I love travelling and seeing new places – and my job lets me do that!

I have always been fascinated by space since I visited NASA's Kennedy Space Centre in Florida at age 9. Since then, I have been there 10 times! When I saw the rockets and satellites there, I realised that I could have a career that involved asking questions about what is in space, and finding the answers by working with telescopes and satellites.

So I studied hard in school – I did Technology, Chemistry and Physics and loved them all. I was never very good at maths or physics but they're my passions. I did the Physics with Astronomy and Space Science degree in UCD and it was an amazing 4 years. I never want to stop learning so I decided to apply to do my PhD. This means I get to learn every day for another 4 years!

My work

Each day I try to solve problems to help design, build and test Ireland's first satellite. I also develop code to try find signals from merging stars using a robotic telescope called Watcher in South Africa.

Read more

I'm a PhD student in the University College Dublin Space Science group. This means that I do research every day – asking questions about space and trying to find answers.

My work involves two different projects – the first project involves working on Ireland's first satellite, EIRSAT-1. EIRSAT-1 is a CubeSat, which means it's about the size of a milk carton, and it will carry really cool Irish technology to space. We are a team of students working with the support of the European Space Agency's Fly Your Satellite! Program and with the support of Irish space companies to get this satellite launched in 2020. I am responsible for the communications of the satellite's information from the satellite to us on earth, and back. This involves using antennae and radio frequencies.

The second half of my PhD involves using a robotic telescope called Watcher in South Africa to study dying and merging stars. I look for signals from gravitational wave events that we can see with our eyes. Gravitational waves are like ripples in a pond, but they occur in space-time when two really heavy objects merge together. The waves stretch and compress space, and we can detect them here on earth. Now my job is to try to find these signals faster with our robotic telescope when the gravitational waves are detected on earth.

My Typical Day

EIRSAT-1 meetings, writing documentation on the design, solving any design problems, doing analysis of the communications system, and much more!

Read more

Since we are in the design stages of the satellite, each day involves trying to nail down the design of the satellite into these big documents called Reviews. We must tell the European Space Agency exactly how the satellite will be built and will operate. So my day usually involves trying to figure out how the communications will work – how will we get data from space to Ireland, and from Ireland to space. I have to look at the hardware on the satellite and on earth, and how each works. I also have to write down each test that we are going to perform on the satellite's communication system to make sure it will work.

My work on the robotic telescope means that each day I'm working on computer programming. I write code in a coding language called Python and MySQL to find galaxies in the sky and then calculate the probability that two stars merged in that galaxy. This means that if we detect a gravitational wave signal in the future, my code should be able to find the signals that we can see quickly, and point the telescope in that direction.

What I'd do with the money

I would use it to support an interactive EIRSAT-1 exhibition where kids can learn how each of the parts of EIRSAT-1 works.

Read more

EIRSAT-1 is split into separate parts called subsystems and each has a different job. For example, the Attitude Determination and Control subsystem is responsible for stopping EIRSAT-1 from spinning. The Electrical Power subsystem is responsible for giving power to each of the pieces of equipment on board.

If I won this money I would like to run an interactive exhibit where each of the subsystems is explained and there would be demonstrations of each of the parts of the satellite.

My Interview

How would you describe yourself in 3 words?

Curious, enthusiastic, lucky!

What's the best thing you've done as an engineer?

Being a part of the EIRSAT-1 team is the coolest - being a part of a really talented, enthusiastic and diverse team working to get Ireland into space is exciting!

What or who inspired you to become an engineer?

When I was in technology class in secondary school, I realised that I liked designing and building things. This, coupled with my love of space, showed me I'd like to work on space-related things!

What was your favourite subject at school?

Maths and Physics - though I was consistently getting my worst grades in these subjects, I was passionate and worked hard at them!

What did you want to be after you left school?

I wanted to be an astrophysicist - and thankfully I am!

Were you ever in trouble at school?

Hmmm... My parents had to hide my books from me at one point - I'm a bit study obsessed - I never want to stop learning!

If you weren't an engineer, what would you be?

Probably a pilot. I find airplanes fascinating and I suppose they're a little bit closer to space!

Who is your favourite singer or band?

U2 - I've been to see them so many times now!

What's your favourite food?

Any thai food - curry's, stir fries etc!

What is the most fun thing you've done?

Probably my field trip to Teide Observatory in Tenerife. We got to use a telescope up on a mountain for a week. It was freezing, and we'd stay up all night, but we got to do real science!

If you had 3 wishes for yourself what would they be? - be honest!

1. To send something to space. 2. To inspire kids to follow their dreams. 3. To be happy!

Tell us a joke.

How many astronomers does it take to change a lightbulb? None, they like the dark.
---
---